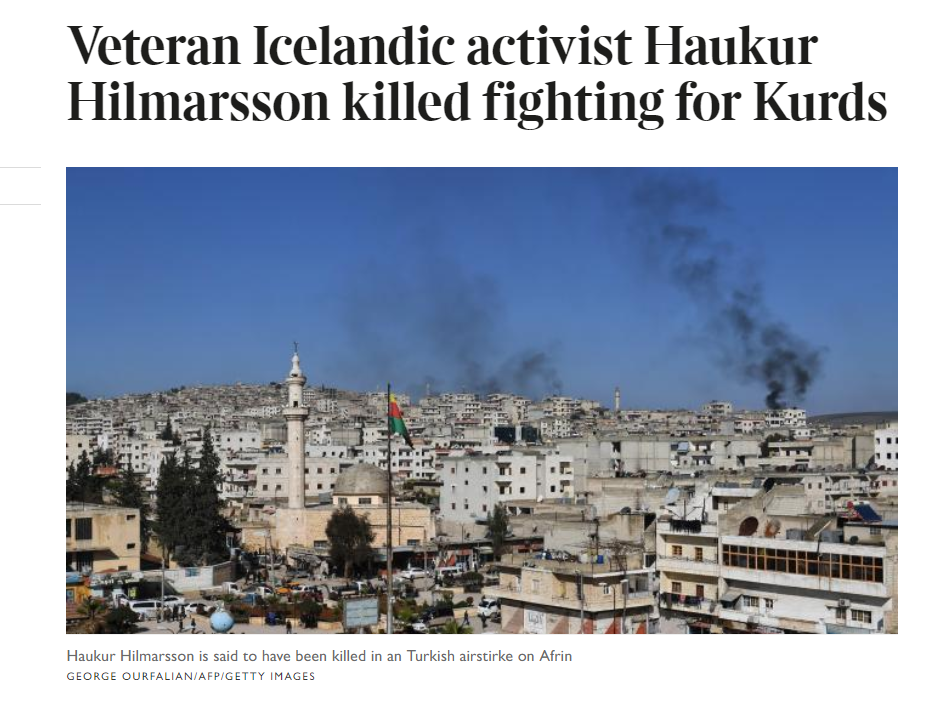 A pro-immigration activist who achieved fame protesting against Iceland's banking collapse ten years ago has been killed fighting for the Kurds in Syria, an example of how the war is galvanising the international left.
The death of Haukur Hilmarsson, 32, was announced on the Facebook page of the "international freedom battalion" of the YPG, the Kurdish militia that is allied to the West in the fight against Isis but is also fighting Turkey in the Afrin region.
Colleagues said that he was killed in a Turkish airstrike on February 24. "In death we say he has become immortal," the battalion's tribute said. "For we will never forget his struggle, his name and his example."
In 2008 Mr Hilmarsson led a protest after the collapse of Iceland's banks in which he placed the flag of a supermarket chain on the roof of parliament, implying that politicians had been bought. He also called for open borders. Recently he moved to Greece to work for refugees and migrants there and came into contact with the YPG through a Greek anarchist group, according to Icelandic media.
"I am here to stand in solidarity with the revolution of Rojava and to fight alongside my comrades to defend what has already been achieved to further the ideals of confederalism," he said in a video posted online by the YPG. Rojava is the Kurdish name for the large areas of northern and eastern Syria under YPG control, and confederalism is the buzzword of its anarchist philosophy.
Eva Hauksdóttir, Mr Hilmarsson's mother, appealed for information about what had happened.
The YPG has attracted hundreds of international volunteers. Macer Gifford, a British fighter, said that Mr Hilmarsson had fought in the battle for Raqqa, Isis's former capital. He said that he feared that intelligence agencies might not look kindly on politically committed volunteers who fought in Afrin against Turkey, a Nato ally, when they returned home.
Turkey fears that if the YPG is allowed to establish itself in Afrin, on its border, it will be able to channel support to the PKK, Turkish guerrillas whom the government considers terrorists.